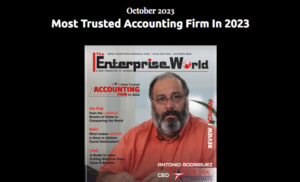 US Tax Consultants and its CEO Antonio Rodríguez have starred on the cover of the magazine specialized in the business world "The Enterprise World".
The reason is having been chosen by the prestigious magazine as Most Trusted Accounting Firm in 2023
Review of the career of more than 67 years
In an extensive interview, Antonio Rodriguez takes a look at the history of the company, remembering its founders who, back in 1965, started the seed of what is now US Tax Consultants.
A commitment to modernization and customer service
An article that also analyzes the important change that has occurred in the company in recent years, always with the focus on service and customer satisfaction.
Implementing processes that facilitate work supported by advanced technological solutions. With a significant investment in material and human resources to achieve the objectives set by the company's management.
Analyzing the company's values
"The Enterprise World" develops an analysis of the values that make US Tax Consultant different in its service offering, emphasizing the professionalism of its team of professionals. Specialization, constant training, proactivity, reduction in service time, quality control…
Excellent results
The journalistic article concludes with a reflection on the results of the innovative management strategy that are reflected in the growth of clients, billing and the high levels of client satisfaction validated by the quality surveys carried out.
Results that have materialized in an award that reinforces us in our efforts to offer our clients the best of services.